Videos: Barging in Scotland
---
The Mystic Battlefields of Glencoe
A tour to the mystic battlefields of Glencoe. Scene of treachery between the Campbell and MacDonald clans.
The Battlefields of Glencoe - Hotel Barge Scottish Highlander (2:41)
The Massacre of Glencoe took place in Glen Coe in the Highlands of Scotland on 13 February 1692, following the Jacobite uprising of 1689-92. An estimated 30 members and associates of Clan MacDonald of Glencoe were killed by government forces billeted with them, on the grounds they had not been prompt in pledging allegiance to the new monarchs, William III of England and II of Scotland and Mary II.
Glen Coe is famous for the sheer majesty of mountain scenery. Glen Coe is a steep-sided valley climbing steadily southeast from the village of Glencoe on the sea-loch, Loch Leven.
The north side of the glen is closely hemmed in by the Aonach Eagach ridge. The south side of lower Glen Coe revolves around Bidean nam Bian, a mountain that keeps its summit hidden behind three huge protruding buttresses that tower over the glen. Between two of these buttresses lies a high-level hidden valley, for many years used by the Glen Coe MacDonalds to hide their cattle, and anyone else's they could get their hands on.
SCOTLAND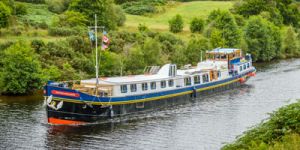 Caledonian Canal (includes Loch Ness)
Up to 8 guests
Charters and Cabin cruises
Themed Cruises:
Family, Fishing, Golf, Whisky
Caledonian Canal (includes Loch Ness)
Up to 12 guests
Charters and Cabin cruises
Themed Cruises:
Family, Gardens, Golf, Whisky
HOME > DESTINATIONS > SCOTLAND > VIDEOS > Battlefields of Glencoe