Videos: Barging in Scotland
---
Visit to Eilean Donan Castle - Barge Scottish Highlander
We drive through Glen Moriston and stunning Highland countryside to romantic medieval Eilean Donan Castle, setting for the film Highlander. It has an idyllic island setting with commanding views of three sea lochs and frequent sightings of otters, dolphins and the Isle of Skye.
The Spectacular Eilean Donan Castle - Hotel Barge Scottish Highlander (2:35)
Eilean Donan, which means simply "island of Donnán", is named after Donnán of Eigg, a Celtic saint martyred in 617. Donnán is said to have established a church on the island, though no trace of this remains.
The castle was founded in the thirteenth century, and became a stronghold of the Clan Mackenzie and their allies the Clan MacRae.
SCOTLAND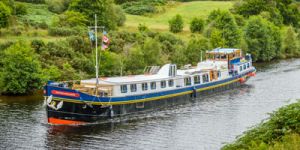 Caledonian Canal (includes Loch Ness)
Up to 8 guests
Charters and Cabin cruises
Themed Cruises:
Family, Fishing, Golf, Whisky
Caledonian Canal (includes Loch Ness)
Up to 12 guests
Charters and Cabin cruises
Themed Cruises:
Family, Gardens, Golf, Whisky
HOME > DESTINATIONS > SCOTLAND > VIDEOS > Eilean Donan Castle