Videos: Barging in Scotland
---
Visit to Culloden Moor - Barge Scottish Highlander
We visit Culloden Moor, site of the last battle on British soil that took place on 16th April 1746 on Drummossie Moor, overlooking Inverness.
Culloden Moor - Scene of the Last Battle on British Soil (3:06)
The Battle of Culloden was the final confrontation of the Jacobite rising of 1745. A well-supplied Hanovarian Government army led by the Duke of Cumberland, son of King George II, faced the forces of Charles Edward Stewart, "The Young Pretender", in the final confrontation of the 1745 Jacobite Rising.
The Jacobite Rising was an attempt to overthrow the House of Hanover and restore the House of Stuart to the British throne. Having failed in their attempt to gain support in England and advance on London, the Jacobites had retreated all the way back to Scotland.
SCOTLAND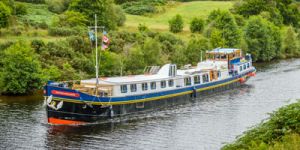 Caledonian Canal (includes Loch Ness)
Up to 8 guests
Charters and Cabin cruises
Themed Cruises:
Family, Fishing, Golf, Whisky
Caledonian Canal (includes Loch Ness)
Up to 12 guests
Charters and Cabin cruises
Themed Cruises:
Family, Gardens, Golf, Whisky
HOME > DESTINATIONS > SCOTLAND > VIDEOS > Visit to Cawdor Castle