Videos: Barging in Scotland
---
Cruising Aboard the Luxury Hotel Barge Scottish Highlander
Cruise sedately through the Great Glen between Inverness and Fort William, navigating beautiful lochs and the scenic, absorbing Caledonian Canal. Ancient castles perched on the waters edge, heather-clad hillsides and some of the finest inland cruising in the world. The legends of the past, the taste of single malt and the mythical inhabitant of Loch Ness all contribute to a special magic only experienced in Scotland's dramatic Highlands.
Cruising Aboard the Luxury Hotel Barge Scottish Highlander (6:52)
The Hotel Barge Scottish Highlander accommodates up to eight guests in four cabins. All cabins have ensuite bathrooms with shower, and can be equipped with either a double berth configuration or two single berths. Scottish Highlander has central heating, and has a comfortable lounge and dining area.
SCOTLAND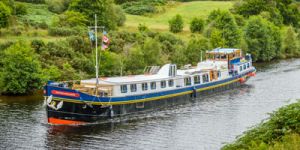 Caledonian Canal (includes Loch Ness)
Up to 8 guests
Charters and Cabin cruises
Themed Cruises:
Family, Fishing, Golf, Whisky
Caledonian Canal (includes Loch Ness)
Up to 12 guests
Charters and Cabin cruises
Themed Cruises:
Family, Gardens, Golf, Whisky
HOME > DESTINATIONS > SCOTLAND > VIDEOS > Cruising with Scottish Highlander