SHANNON PRINCESS's Walking Itinerary embraces the luxury and comfort of barging along with the satisfaction and exhilaration of quality guided walking tours in a unique & beautiful environment that only Ireland's river Shannon can offer.
Along with their chauffeur-driven luxury mini coach and professional walking guide, Shannon Princess provides the perfect floating vista for your Irish walking adventure. The walks are guided by professional walking guides, all with backgrounds in archaeology, history and natural science, along with a smattering of local knowledge.
SHANNON PRINCESS follows an ecologically pure route little changed through the centuries. Enjoy gastromony, culture, folklore & glorious rambles or hikes through spectacular & varied scenery. The Walking Cruises combine all the pampering of a regular cruise with five guided & catered walks.
The Shannon Princess follows a natural trail through the heart of hidden Ireland, as do your walking trails. Each day wake to freshly baked pastries & our excellent Wellness Style breakfast. After a leisurely breakfast your guide will muster his troops and set off for that day's trail. Routes will typically vary between 14-20 km, or a 4-hour period. With undulating routes, many of the walks are areas of special environmental preservation. Enjoy alfresco gourmet lunch and refreshments catered by the barge crew and our support vehicle. Return to the Shannon Princess for Captain's cocktail reception and a leisurely afternoon or evening dining cruise to our next port of call.
Relax as the last rays of light wash over Shannon Princess and the River Shannon. Soak up the Shannon's tranquil ambience and watch the world float by. Spend your late evening at leisure or catch up with new friends in a local country pub and perhaps enjoy an impromptu music season. Your overnight mooring will be the starting point for the next day's Walking Tour.
Discovering the Treasures of a Fabled Waterway
Sunday, Day 1


THE COURT OF THE HIGH KINGS: THE TWIN TOWNS KILLALOE & BALLINA:
Guests shall be met by the Barge Guide at 3.00pm at The Aberdeen Lodge Hotel, and transferred by Luxury coach to the Shannon Princess in Killaloe. We are moored on the Tipperary side of these picturesque little Ecclesiastical towns. Killaloe was once home to the court of the last High King of Ireland, Brian Boru.
"Cead Mile Failte"
(a hundred thousand welcomes!): Your Captain and his crew welcome you onboard the elegant Shannon Princess with a Champagne Reception. Time enough to meet new friends; relax on deck or explore this charming riverside town & local sites of interest. Watch the world float by, as you enjoy your first Gourmet dinner onboard.
Monday, Day 2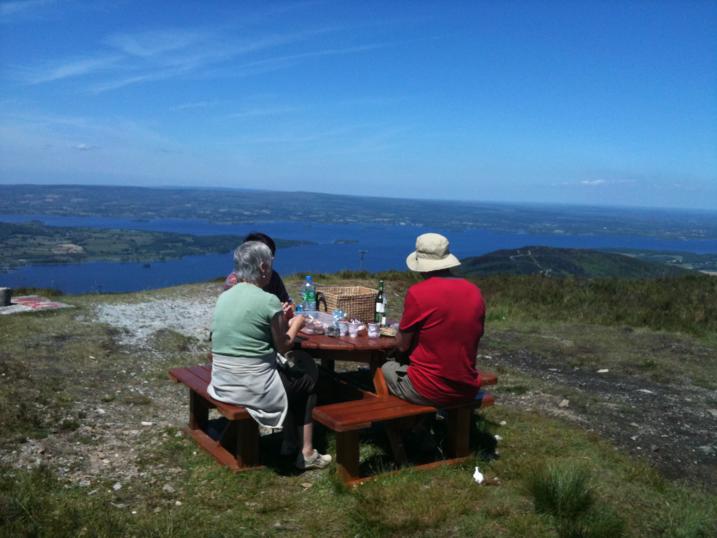 MORNING WALK, THE GRAVES OF THE LEINSTERMEN:
We take a hike into the Arra Mountains from our mooring in Killaloe. At the summit of Tountinna is the "GRAVES OF THE LEINSTERMEN". Today one stone is standing, the rest are covered in undergrowth. The site may have originally been a stone circle or a Neolithic Tomb. Keep a look out for evidence of the area's great slate quarrying tradition. Magnificent views can be had from these parts, and blanket bog and several varieties of heather add to the allure of the landscape. This is an excellent walk and can take between 3 to 5 hours to walk. We are walking on natural terrain with moderate gradients.
AFTERNOON CRUISE, TO THE WATERS & THE WILD… COUNTY CLARE:
We slip our moorings at Killaloe, and start our journey up river. This afternoon we literately go with the flow, up through Lough Derg with its many Islands & Medieval strongholds. Here, the Shannon Princess follows a dramatic route carved through the hills & valleys of Munster's North Riding. The River sweeps past banks charmingly dotted with wild horses and crumbling castles. We moor at the lovely old estate village of Mountshannon, perched prettily above the Lough. Gourmet dinner onboard. After dinner, enjoy a moonlit ramble around Mountshannon.
Tuesday, Day 3
MORNING WALK, THE EAST CLARE HILLS:
The East Clare Way walk starts from our overnight mooring in Mountshannon. This is a 127km route of marked highways and byways. You will be guided through what is considered the most beautiful section. A gentle climb up through riverside villages and into the Slieve Bernagh hills until we overlook some of the most spectacular scenery in the whole of Munster with Lough Derg and its many islands at our feet creating a landscape rich in beauty, colour and variety. This is a 3 to 4 hour walk on natural terrain and trails with moderate gradients.
AFTERNOON CRUISE, COUNTY TIPPERARY:
This afternoon the Shannon Princess meanders effortlessly north through Lough Derg. We moor waterside at the foot of a hill that slopes gently up to Terryglass village. At Terryglass, take time to explore this rural Hamlet- walk, cycle, swim or make a wish in any of the village's "Holy (fairy) Wells"! Time to explore Portumna Castle walled kitchen gardens with your Chef. Gourmet dinner onboard.
Wednesday, Day 4
MORNING WALK, THE SLIEVE BLOOM WAY – CADENS TOWN & KINNITY:
We travel by luxury coach to the nearby Slieve Bloom Mountains. Steeped in history and folklore, the Slieve Blooms dominate the landscape as it straddles the border of counties Offaly and Laois. Its highest peak, 529m Arderin, translates from Irish as the height of Ireland. Connections with the past are everywhere as the area is dusted with monuments dating back as far as 4,500 years. This is a 3 to 4 hour walk along riverside paths & bog tracks and through woodland trails. Refreshment at Leap Castle hosted by owner and traditional musician, Sean Ryan.
AFTERNOON CRUISE, JOURNEY THROUGH THE ANCIENT KINGDOMS OF CONNAUGHT & LEINSTER:
Return to Shannon Princess for this evening's gourmet dinner, and cruise an evocative stretch of the river Shannon. Onwards we head, in the wake of time, floating by dappled woodlands & ancient highways. The ever-changing landscape slipping by, pausing as Portumna Swing Bridge is opened to allow the Shannon Princess pass on by, upwards through Meelick Lock to moor over night at the village of Shannonbridge. Gourmet dinner onboard.
Thursday, Day 5
MORNING WALK, THE PILGRAM'S PATH:
After a short Cruise, we moor at Clonmacnoise ruins - an atmospheric & spiritual 6th century monastic settlement soaked in history & myth. Clonmacnoise was the ancient burial grounds of the High Kings of Tara and Connaught, and quickly became a popular place of pilgrimage. Here on the Shannon Riverbanks we start our walking trail on THE PILGRIM'S PATH. This ancient walking route crossed early historic Ireland from east to west and was known in Gaelic as
An tSlí Mór
(the Great Road). The modern Pilgrim's Path covers an intact stretch of that ancient route which winds along the Esker Riada and provides the walker with an elevated view of the bog and river Shannon rich in wildlife and flowers. We follow the trail for 3 to 4 hours over gently undulating and natural terrain.
AFTERNOON CRUISE, THE BROAD MAJESTIC SHANNON & ATHLONE:
The Shannon Princess continues its meander up the Shannon towards Athlone, cruising through lush grazing meadows and floodplains. These meadows are considered Ireland's premier wildfowl and flora reserves, and excellent examples of "Callows" landscape. We moor in the heart of the bustling town of Athlone with time to visit some of the many charming craft, antiques shops or a visit to any of the town's impromptu traditional music pubs. Dinner onboard.
Friday, Day 6
MORNING CRUISE, LOUGH REE & WESTMEATH:
This morning the barge slips through countryside little changed through the centuries. Relax and unwind as we float along the Shannon's beautiful "Lough Ree & its Inner Lakes", passing stately riverside homes and some of its reputed 365 wooded islands. We moor at Quigleys Marina, Glasson.
AFTERNOON WALK, THE TÁIN TRAIL & PORTLICK WOODS:
TÁIN BÓ CULAINE is the legendary route taken across Ireland taken by Queen Maedbh of Connacht in her attempts at the theft of her husband's riches and his prized Brown Bull of Cooley. The Tain Trail is steeped in mythology & history as it retraces the journey & battles between Maeve and her armies and the Warrior hero, Cúchulainn. We join the Tain Trail along the shores of Lough Ree where Maeve met a bloody end. We follow the trail for 3 to 4 hours. This is a charming lakeshore byway on natural surfaces with only slight gradients. Farewell "Slainte" Gourmet Dinner.
Saturday, Day 7
GLASSON / DEPART:
After breakfast you will be transferred by luxury coach to your designated drop off point.
Note:
Our luxury bus and driver is in attendance on all walks, allowing walkers the freedom to extend walks or return to the barge at their wish.
On alternate weeks the cruise is in the reverse direction.
Itineraries are subject to change.
SHANNON PRINCESS HOME
>
ITINERARIES
>
Guided Walking Cruise Itinerary
Barging in Ireland - Shannon River Cruises in Ireland - Irish Barge Charters - Cruising in Ireland